Social Media Drinks Strategy
Coates & Seely, an English sparkling wine found itself in an interesting position. How do you market to Champagne drinkers on social when your category doesn't even have a recognised name? ("Britagne" isn't going to become well known, any time soon.) What if your audience isn't even active on social? Should you invest and if so, on what channels? What sort of content do you put out? I was asked to assess Champagne brands with particular focus on how competitors were connecting with fans on social.
It's easy to assume that the affluent consumers aren't on social. We know this to be outdated and un-substantiated thinking. Luxury and social media aren't mutually exclusive. Mass-affluent, affluent, high-net-worth are all far more likely to be active on social platforms than non- high-end consumers.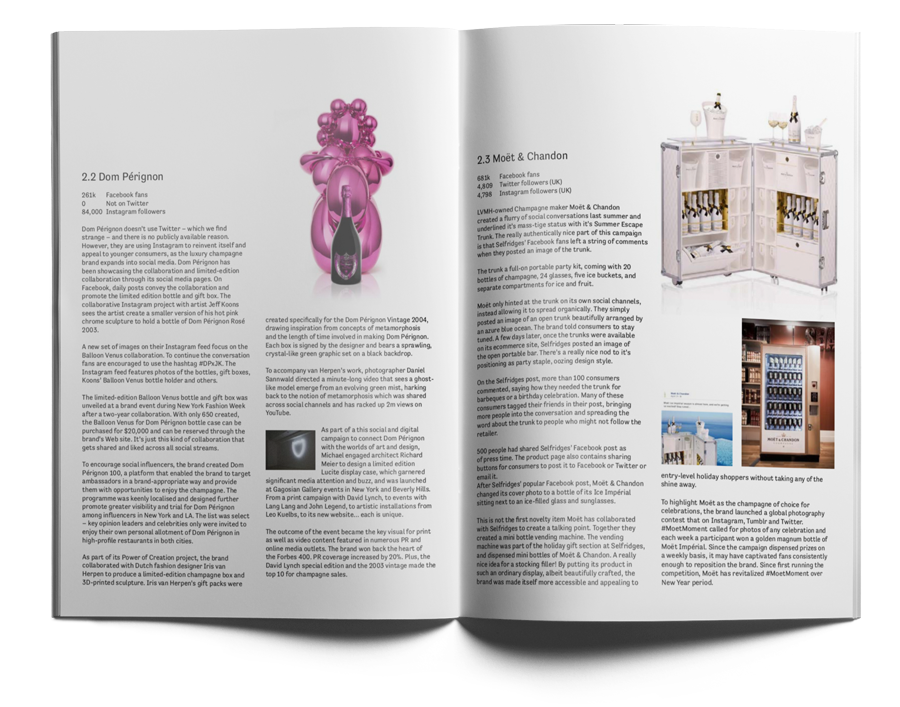 Premium and luxury brands need to target these consumers accordingly. In particular, affluent consumers with an annual income of £160k+ use digital platforms to research and buy luxury products. 71% of these affluents specifically using social media as part of their decision making process.
Champagne is an active category, particularly on Instagram. The channel lends itself to beautiful photography and the enjoyment drinking Champagne brings. Krug, Dom and Moët are all big players and they take a lot of care over their content. More specifically, in the English sparkling wines category, competitors aren't really making the most of social. This puts C&S in a powerful position to take first mover advantage.
From my research I produced a 5000 word social strategy as a c-suite report highlighting threats, opportunities and clear next steps for Coates & Seely on social.
Strategy Director
Consultant
2015